Cathy J. Matz-Townsend
New To Germany?
Resident in Germany?
Investing in Your Future?
Highly-qualified Specialist for German and International Insurance and Investment.
Providing Insurance and Investment support to clients in Germany since 1988.
Our Clients
Our clients are both German and international, resident in Germany.
They need independent and qualified insurance and investment support for themselves and their families.
Our clients can benefit from a detailed analysis of their financial circumstances to help them plan for their future.
We will assist in the construction and management of portfolios of investment funds.
Bilingual in German and English
To read a complete report written by Cathy Matz-Townsend on Health Insurance in Germany, click here.
For the article on Insurance in Germany by Cathy Matz-Townsend, click here.
For the article on Investing in Germany written by John Townsend, click here.
For Investment Opinions from John Townsend, click here.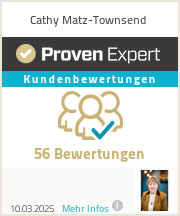 CONTACT DETAILS